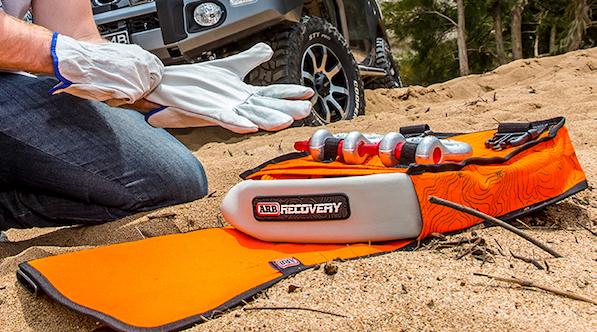 Off-Road Recovery Gear & Tools
Off-road recovery gear and tools are essential items to have when venturing off the beaten path in a 4x4 vehicle. They can help you get unstuck, recover from difficult terrain, and even save your life in an emergency situation.
Filter
Here is a summary of some of the most important off-road recovery gear and tools:
Recovery Straps: These are made of heavy-duty nylon and are designed to stretch when under tension. They are used to recover stuck vehicles by attaching them to the vehicle's recovery points and another vehicle's tow hitch or recovery points.
Winches: These are electric or hydraulic devices that pull a vehicle out of tough terrain. Winches can be attached to a vehicle's bumper or other secure points and can pull a vehicle out of mud, sand, or other obstacles.
Traction Mats: These are plastic or rubber mats that provide traction for tires to grip on to when stuck in mud, sand, or snow. They are placed under the tires and can help a vehicle gain traction and get unstuck.
High-Lift Jacks: These jacks can be used to lift a vehicle out of a ditch, mud, or sand. They can also be used to change a tire or make repairs to a vehicle's suspension.
Shovels: A shovel is an essential tool for digging out a vehicle stuck in mud, sand, or snow. A sturdy, long-handled shovel can also be used to clear debris from the path.
Tire Repair Kit: A tire repair kit should include a tire plug kit, tire gauge, and air compressor. These tools can be used to repair a flat tire and inflate it back to the proper pressure.
First Aid Kit: In case of an emergency, it is essential to have a well-stocked first aid kit in your vehicle. It should include bandages, gauze, antiseptic, and other medical supplies.
Fire Extinguisher: A fire extinguisher is an essential safety item in case of a vehicle fire. It should be mounted securely and easily accessible.
Communication Devices: It is important to have a way to communicate in case of an emergency. A two-way radio, satellite phone, or cell phone can be used to call for help.